Basic Website Elements: Homepage
Before Configuring EZ Home Page:
Under WordPress Settings --> Reading
You want the settings shown in the right image
Click Save.
EZ Home Page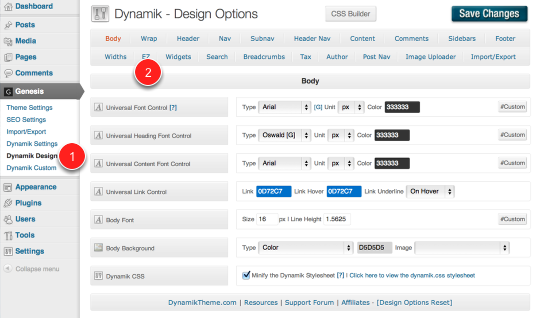 Under Genesis Options Panel
Click Dynamik Design
Click on the EZ tab
Home Page Type and Home Page Structure
1. Home Page Type The WordPress Default Homepage is the standard blog setup. The Static Homepage option allows you to define the structure of your homepage and assign another page to be your blog page.
2. Static Homepage Structure Using the Dropdown, choose the structure you want for the Content area of your static homepage Each number is a row and shows the number of widget areas aligned side-by-side on the row. So the ez_home_3_3_3.php option, has three rows of three widget areas aligned side by side by side.
Static Homepage Structure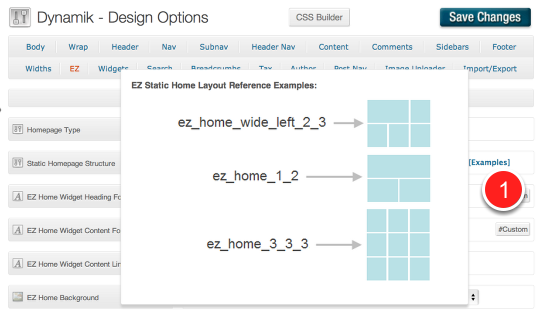 This example is available by clicking the [Examples] link.
Home Page Options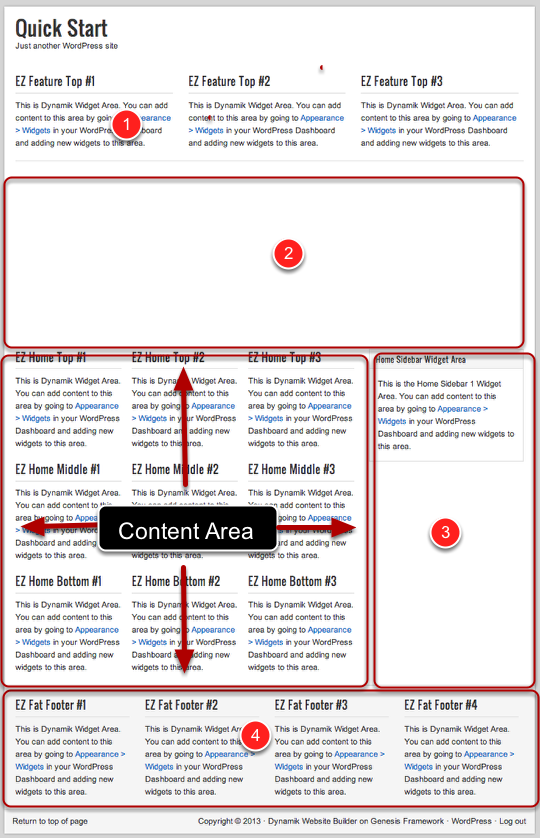 In addition to the Content Area of your static home page, you have the Homepage EZ Widget Area Extras:
1. EZ Feature Top
You can add it to the home page or on other pages or all of the above.
2. EZ Homepage Slider
Set the width based on your choice of putting the Slider Widget Area inside the sidebar, which means it splits the total width of your home page with the sidebar OR put it outside the sidebar (as shown above) where the Slider Widget Area spans the full width of the home page. Set the height of the Slider Widget Area by inputting the height, in pixels.
3. Static Home Page Sidebar
This is different from the Sidebar 1 and Sidebar 2 for the rest of the site. You can position it to the left or right (shown in the image above) of the EZ Home Content Area.
4. EZ Fat Footer
You can add it to the home page or on other pages or all of the above and put it inside the Footer or outside the Footer of your website.
Example of planning your home page layout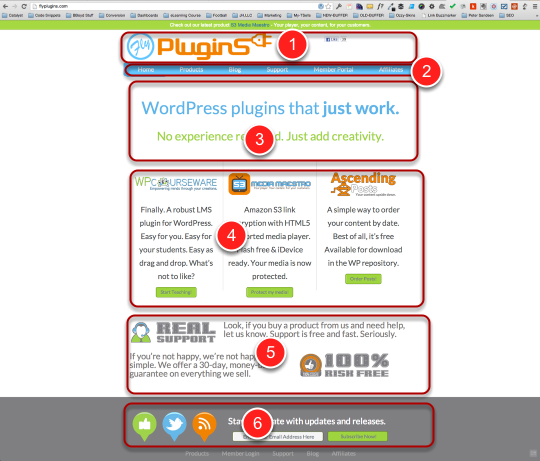 The idea is to break the home page into EZ Widget Areas. In this example we are using the FlyPlugins home page as an example.
Header
Navbar 1
EZ Home Top 1
EZ Home Middle 3
EZ Home Bottom 1
EZ Fat Footer Wide Right 2