Basic Website Elements: Sidebars
Choose the sidebar layout for your website and add content to your sidebars. If you choose a layout including two sidebars, Sidebar 1 will be the main sidebar and Sidebar-2 will be the secondary sidebar.
Make some choices

Select Genesis --> Theme Settings
Define your Default Site Layout, default is Double Right Sidebar
Want breadcrumbs visible? Toggle them off to remove them or toggle them on to include them.
Change default content type from Full Content to Excerpt.
Add your Google Analytics Code in this area
Save Settings
Enable Responsive Design and couple other tweaks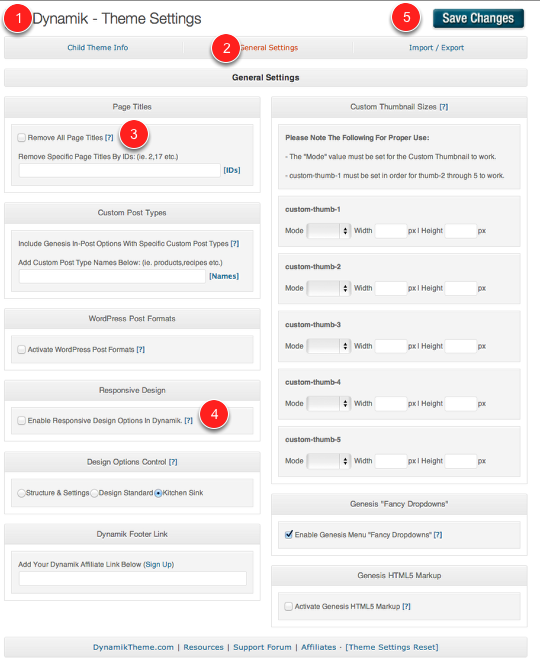 Go to Genesis --> Dynamik Settings
Click on the Genesis Settings Tab
Remove the page titles from each page by toggling this check box on.
Enable Responsive Design Options
Save
Control Widths of Content Area and Sidebars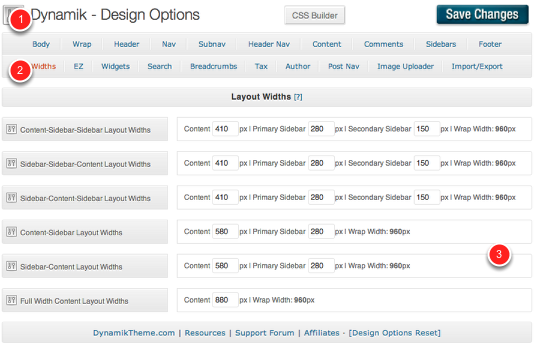 Choose Genesis --> Dynamik Design
Click the Widths Tab
Each layout is included and you can set the width in pixels for the Content Area, Orimary Sidebar, and Secondary Sidebar (If applicable) *
* Keep in mind that Dynamik automatically includes the Container Wrap Padding (set as Left/Right) and the sidebar separation value. These are set in Genesis --> Dynamik Design --> Wrap Tab, row: Container Inner Padding
Populating your Sidebars with Content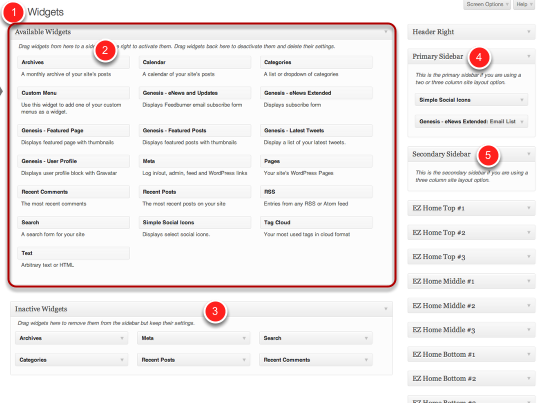 Go to Appearance --> Widgets
The top left section shows the available widgets. If themes and plugins create a widget, they will display in this area. Pro Tip: Each time you drag a widget and drop it into a widget area on the right, WordPress assigns an id to that widget. So the 10th time the Text Widget is used, the ID for the widget area will be #text-10. This is helpful when styling using CSS specific to that widget.
The Inactive Widgets Area allows you to save widgets without having them active. This is helpful when you configured all the parts of the Catalyst Excerpt Widget just how you want them but don't want it active at the moment or when you have text or code in a TEXT Widget and don't want to lose it.
Primary Sidebar is the main sidebar for your website
Secondary Sidebar is the secondary sidebar for your website, which comes into play when you are using a layout including two sidebars.
Sidebar Styling Options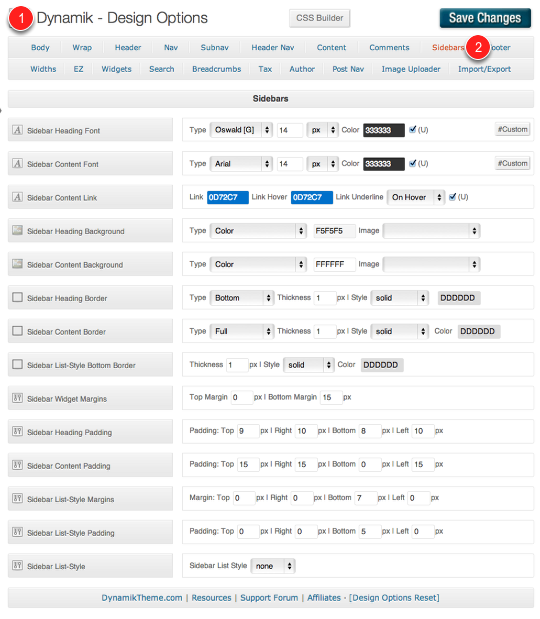 Go to Genesis --> Dynamik Design
Choose the Sidebars Tab
The Sidebar Heading and Content Areas Explained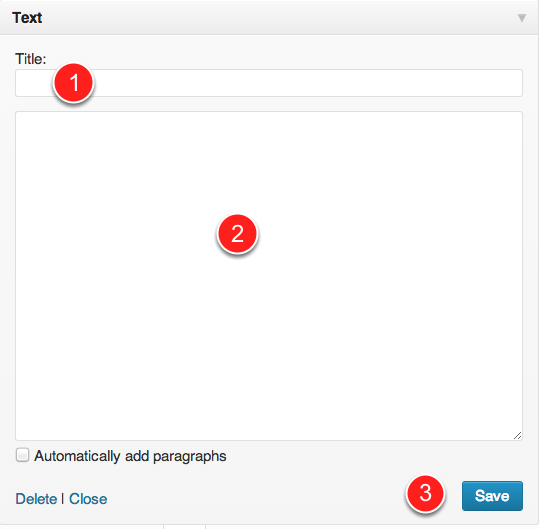 Sidebars styling components are broken into two elements, the Sidebar Heading and the Sidebar Content. When looking at a widget area that you would drag into the sidebar:
The Title is the Sidebar Heading
The content area is the Sidebar Content Area
Be sure to always hit the save button so your widget shows up on the front-end of your website.